Step Four: Introduction to TinkerCAD – 15 min
TEACHER NOTE: Key concepts in TinkerCAD to show participants:
The workplane
Zoom in/out (scroll)
Rotation of the viewpoint (right-click and move mouse)
Reset the viewpoint ("Home view" button)
Pan view (hold shift + right-click, and move mouse)
Sidebar with various parts and how to place them on the workplane
The geometric primitives ("Basic Shapes" tab) available in the sidebar
The solid vs hole state of a shape
Selecting an object (left-click)
Selecting multiple objects (hold shift + left-click)
Using a selection box (hold left-click and move mouse, release left-click)
Group / ungroup multiple objects (adding / subtracting)
Handles for scaling and translating objects
In whole class, run through the entire 3D modeling process to demonstrate the software TinkerCAD.
Students observe while the teacher describes what they are doing.
Ask students to follow along, up until the 3D printing step.
After launching the 3D print of the demo model, students will prepare to create models.
Students create their own 3D model.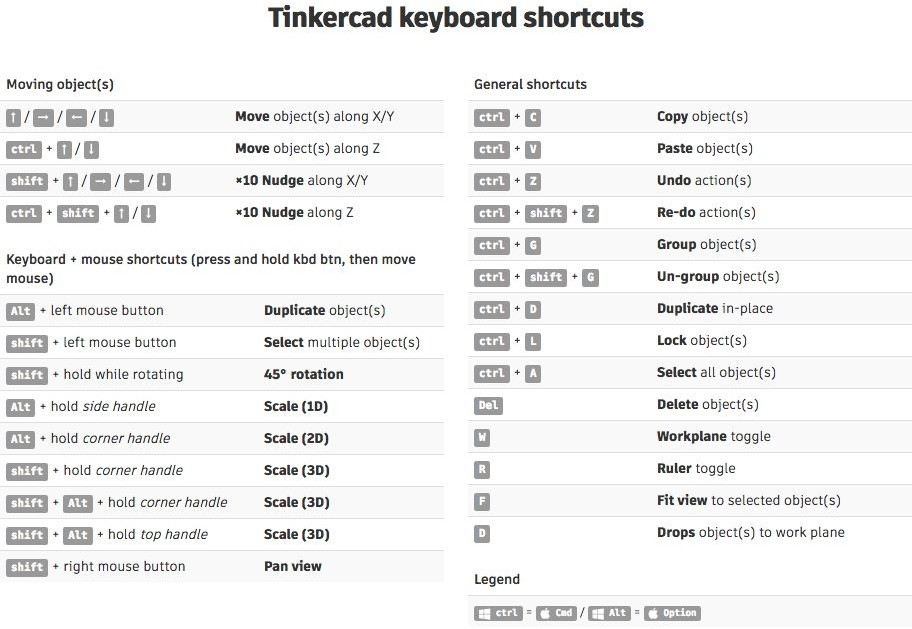 TEACHER NOTE: Teacher moves around the room to assist and re-explain concepts as necessary. Demonstrate common questions or repeat challenging concepts to all participants. Often participants want reminders for how to select, group, and subtract objects.
More Resources: https://www.tinkercad.com/learn/